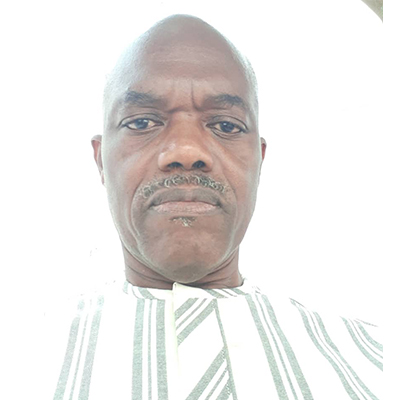 Larsey Mensah is a Ghanaian, born in Accra, Ghana in January, 1956. He is a graduate of the
University of Ghana (LL. B Hons 1982) and the Ghana School of Law (Qualifying Certificate in Professional Law 1984.) Mr. Mensah was admitted to practice in Ghana as Barrister-at-Law and Solicitor of the Supreme Court of Ghana in 1984. He is also a graduate of the Centre for Environmental Management, Tufts University, Boston, Massachusetts (1990); the School of Oriental and African Studies, (SOAS) University of London, U. K. (LL.M 1994). He interned at the Foundation for International Environmental Law and Development, UK (October to December, 1994) and the IUCN Centre for Environmental Law, Bonn, Germany.
He is a member of the World Commission on Environmental Law and an Associate Member ofthe Coolidge Centre for Environmental Leadership.
An expert in Environmental Law, he chaired the Group of 77 and China during the negotiations on the Convention on Biological Diversity. Together with Morocco, he represented the Africa region on the Basel Convention Compliance Committee for two terms.
He has embarked upon several study tours, including study tours to New York Botanical Garden Institute of Ecosystem Studies at the Mary Flagler Cary Aboretum Millbrook, New York; Woodshole Oceanographic Research Station, Cape Cod, Massachusetts and Lawrence
Experimental Station, Lawrence, Massachusetts all in the United States of America.
Mr. Mensah was a Consultant to Ghana 's National Committee on Ozone Depleting Substances (NACODS) and a member of the Committee which reviewed the Consultants report on amendments to the Factories, Offices and Shops Act (1970) Act 382. Mr. Mensah also assisted in the final drafting to proposed amendments to the Game and Wildlife Laws of Ghana.
He was a participant on the Global Consultation on the Development and Enforcement of International Environmental Law, with special focus on preservation of Biological Diversity at the Netherlands National Committee for the IUCN.
Mr. Mensah saw through the ratification process for a number of MEAs to which Ghana is a party including: the Kyoto Protocol, Basel Convention and its Protocol on Liability and Compensation as well as the Basel Ban Protocol, POPS, PICS and the Desertification conventions and several IAEA treaties. He was also actively involved in the development of
national implementation legislation for these treaties
He served on several national committees and boards. He retired from the public service in January 2016. Since leaving the public service, he has been working as a a consultant with a focus on environmental law and policy matters.